If your eyes are your favourite feature, there are many ways you can highlight them. Mascara can be used to stunning effect and false lashes are a great temporary solution, but eyelash extensions offer the effects and versatility of both those options. Here's everything you need to know about eyelash extensions.
What is the Price for Eyelash Extensions?
Eyelash extensions really draw attention to your eyes, framing them with beautifully soft, fluttery lashes. They're a versatile and cost-effective way to build up your natural lashes and create a particular desired look.
Anyone wanting to enhance their natural lashes with beautiful falsies will, of course, wonder, what is the price for eyelash extensions? Shop the Quality Beauty Store range and you'll find superior eyelash extensions that offer amazing value for money! We're proud to sell a variety of Loventure® silk and faux mink lashes; these products are fine quality but also affordable so you can indulge your love of luscious lashes.
Eyelash extension styles can be dramatic and bold or natural and feminine. Finishes can be gorgeously glossy or ultra-modern and matte. Our Loventure® lashes are easy fanning hence it will be a pure pleasure creating amazing Russian Volume sets or a timeless quality Classic sets. No matter which you choose you'll instantly make your client's eyes the stand-out feature of their face. You'll be able to create professional-looking, perfectly-made-up lashes without breaking the bank.
Eyelash Extensions Price
So now you know that our lovely lashes are affordable, what is the typical eyelash extensions price? The cost of your lashes naturally depends on the type and brand you choose. Loventure® lashes come in a range of options, from single pots of loose, individual lashes (priced at £4.99) to multipacks of trays with pre-cut lash strips (starting at £19.99). This ensures you can choose the lashes that not only match your personal style and taste but also suit your budget.
Eyelash extension prices may differ between type and brand, but with Loventure®, the lash material doesn't impact on the cost. Both our silk and mink lashes are similarly priced at around £7.99 for a tray of individual lashes. You can have the soft sheen of silk or the matte finish of mink without having to compromise due to lack of funds! After all, every beauty lover deserves luxury lashes.
In 2020 we have introduced our new premium brand – Lash Esthetics®. Over the years we have established a network of lash artists around the country who will continuously provide input on the product development under the Lash Esthetics® brand. You can, therefore, expect to receive only the finest quality lashes and adhesives. Lash Esthetics® will make your lashes aesthetically pleasing.
Eyelash Extensions Price List UK
Quality Beauty Store makes it easy for you to quickly find eyelash extensions that fit your budget. You can sort and filter by price in our lashes category to view only the lashes that are affordable for you. That means no drama when you come to order from us!
Loventure® lashes come at purse-friendly prices which make them great for experimenting with. Take a look at our Loventure® eyelash extensions price list UK:
Loose Lashes in a 0.5g pot: £4.99
3D Premade Volume Fans: £9.99
Individual Silk Lash in Tray: £6.99 – £7.99
Individual Mink Lashes: £7.99
Silk Lash Mixed Tray: £8.99
Mink Lash Mixed Tray: £8.99
Mink Lashes x 4 Trays: £19.99 – £21.99
With so many great options in terms of type, style and price, you'll be able to choose the perfect eyelash extensions and create the dreamiest looks for your portfolio.
Lash Esthetics® come in trays of 16 lines and is available in the following types:
Classic Lashes (16 lines) – £9.99
Volume Lashes (16 lines) – £10.99
Extreme Flat Lashes (16 lines) – 11.99
Easy Fanning Lashes (16 lines) – £10.99</li>
Lash Esthetics® is also available as pre-made volume fans from just £7.99 per tray.
Buy Individual Eyelash Extensions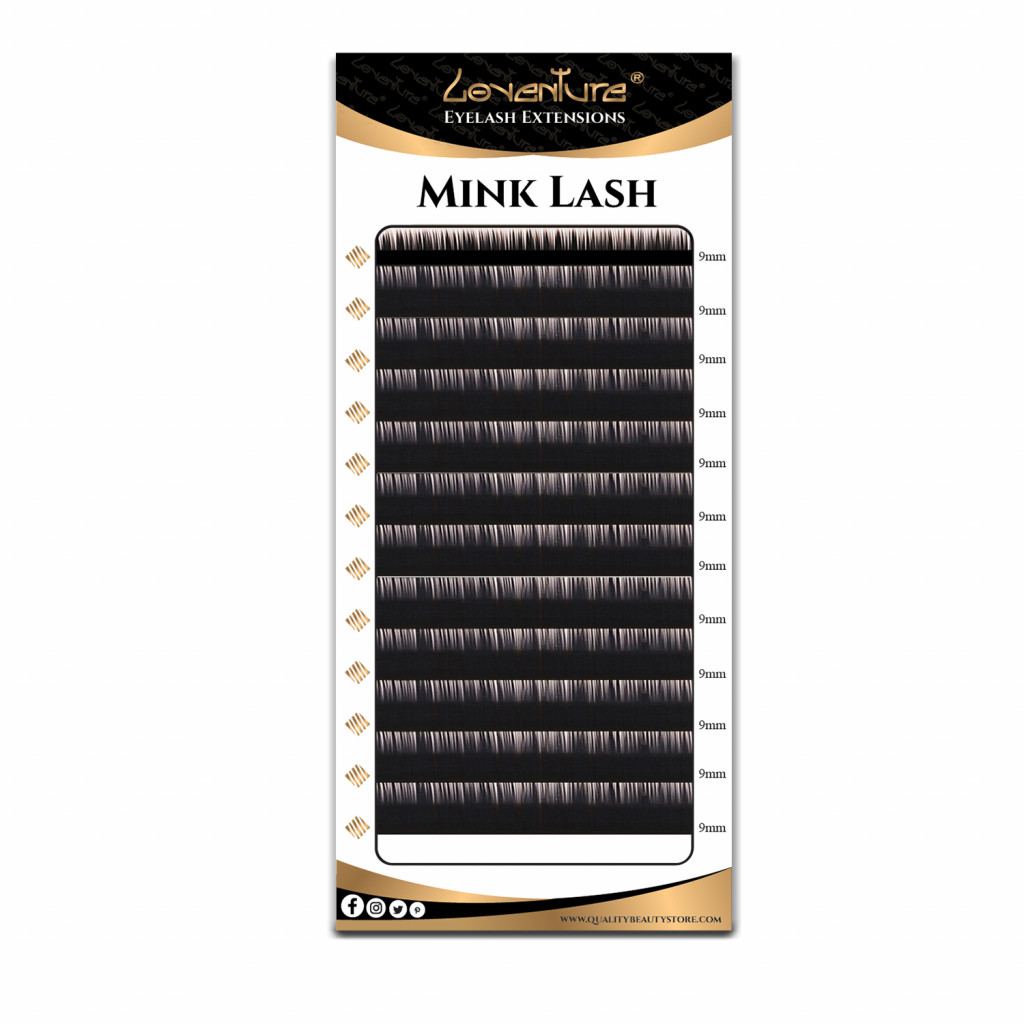 Once you have a general idea of how much eyelash extensions cost, you can then think about the type you'd like to use. For many lash-lovers, individual lashes are the best. They're versatile, great value, comfortable to wear and allow for limitless creativity when it comes to achieving different beauty looks.
If you'd like to buy individual eyelash extensions, Quality Beauty Store has a comprehensive range available. Exclusively developed in-house, Loventure® lashes are premium-grade but very affordable.
As previously touched upon, individual lashes come loose in pots or attached to strips. Loose lashes are less expensive because lashes are not attached to strips hence each individual lash has to be picked separately. This makes no difference when performing a classic set but could be a bit more challenging when creating volume fans. For quicker fanning, choose tray-type lashes as it is much easier to pick multiple lashes from strips.
Go for our Lash Esthetics® Premade Volume fans to save time on your treatment. These are available in 3D, 5D, 6D, 8D and 10D strands. Our pre-fanned lashes are held together with a special heating technique rather than by glue, which makes them super lightweight and easier on clients' eyes. Without the need to manually create fans, your application time will be slashed by half. You will now be able to create a fine set of Russian Volume lashes in less than 2 hours. Check one of our regular client's portfolio to see what you can do with our premade volume fans – https://www.instagram.com/la_beaute_studio_/.
Where to Focus Your Attention When Buying Eyelash Extensions?
So now you've decided you absolutely want to try eyelash extensions. You've seen how they can make the eyes "pop" and how they can streamline your morning makeup routine by eliminating the mascara step (which sounds great!). But where to focus your attention when buying eyelash extensions? This part involves some studying and an understanding of how eyelash extensions work with your eyes.
First, consider the size and shape of your eyes, along with your eyelid type
Note your eye colour and look carefully at the condition, length, volume and curl of your natural lashes
Think about your style preferences, your lifestyle and any allergies you have (to glues or synthetic materials)
Do you have the tolerance and budget for the upkeep that eyelash extensions require?
Consider the quality of the product and the reputation of the brand; are they trusted experts in lashes?
Last, but not least, make sure your lash technician is fully certified and accredited.
Are Eyelash Extensions Worth it?
If you've considered the previous points, you may have realised you actually already have lovely lashes! In that case, are eyelash extensions worth it? The answer is an absolute yes. Everyone can benefit from eyelash extensions, whether as a convenient long-term beauty solution or as an occasional enhancement, perhaps for a party or event.
Eyelash extensions are not just about creating wow-factor lashes that get you noticed. They're about helping you achieve the look you always wanted, whether that's more volume, longer length, a shapely curl or deeper colour. They give you the freedom to experiment with different looks, much more than other beauty products do.
Eyelash extensions are also about you winning back your time and feeling empowered! Your lashes will no longer need augmenting with mascara and you'll feel more confident about going bare-faced. They're the cost-effective solution to a whole range of lash issues and a worthwhile investment.
The QBS Eyelash Extensions
As with all our products, the QBS eyelash extensions range is intended to help you achieve your beauty goals. We aim to help you and your clients get the lashes you dream of within the limits of your budget. We stock only the finest quality lashes from trusted suppliers and are proud to say that Loventure® lashes are our best-sellers.
All Loventure® silk and mink lashes represent great value, superior quality and creative versatility. From loose lashes to premade strips, the brand offers users of all skill levels the perfect product. Loventure® lashes are available as individual trays or as part of our exclusive Eyelash Starter Kit which includes everything you need for lash application.
We're the experts when it comes to beauty so you know you can trust our products to deliver perfect results. And with such a broad range of eyelash extension products, there's really no need to shop anywhere else! Buy lash extensions and products from Quality Beauty Store today, and explore our range of adhesives, accessories and student lash kits.
The QBS Eyelash Wholesale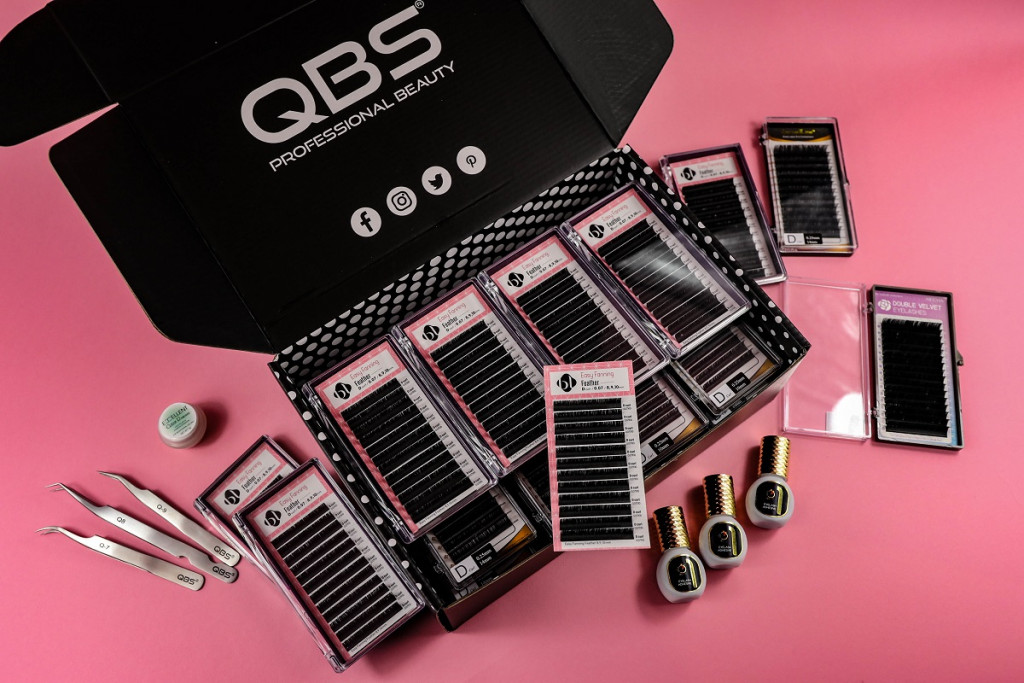 For the very best value when buying eyelash extensions, Quality Beauty Store has an exclusive rewards program and discount structure when you buy wholesale supplies. The QBS eyelash wholesale option is perfect for you if you need to buy larger quantities of lashes, perhaps to use on your clients or to re-sell in your beauty salon. With every pound you spend on wholesale lashes from our site, you'll receive loyalty points under the QBS® Rewards Points program.
In addition to loyalty points, customers who purchase wholesale lashes from us can enjoy generous discounts – even on smaller orders. The discount structure is simple and discounts are applied automatically. Spend £100 or more and save 5% on your order, or spend £500 or more and save 10%! For orders over £750, you can contact us to ask about discounts, because we want to give everyone the best deal.
Eyelashes, Wholesalers – How to Choose?
There are very few wholesalers of eyelash extensions in the UK but it's still important to do your research before buying from one of them. When choosing a wholesaler for your eyelash extensions, you should look for a company that has a strong relationship with its supplier or manufacturer. That way, you'll know you're getting the best deals and the best quality-to-price ratio.
QBS® has worked hard to foster good partnerships with trusted manufacturers, thus ensuring the quality of the products we sell and the competitiveness of our prices. We develop our products using our rich experience and a network of lash artists around the UK and Europe to make sure our products have the latest advancements in the eyelash extension industry. We stock exclusive, in-house brands and products from other reputable names that also have their finger on the pulse of the latest beauty innovations.
Maybe you're overwhelmed by the wholesale buying process and are wondering… eyelashes, wholesalers – how to choose? If so, simply shop with Quality Beauty Store and you can rest assured you're getting a great product at a great price.
Wholesale Lashes – What is the Amount to Get Lower Price?
If you're comparing wholesale eyelash extension prices, you'll naturally want to know which company gives you the best value. Then, you'll look to see if that company offers larger discounts on larger-scale orders. At QBS®, that's exactly what we do! Alongside our loyalty points program and percentage discount structure, we have offers in place for bulk buys. For your convenience, discounts are automatically applied at checkout.
In terms of our wholesale lashes – what is the amount to get a lower price? We offer two different deals: a lower price per product on orders of 100-500 units and the lowest price per product on orders of 500-1,000 units. Choosing the second option undoubtedly gives you the most competitive price and the best resale potential. The more eyelash extensions you buy, the more you save and the more money you can potentially make back if you resell the lashes in your salon.
Buy Wholesale Eyelash Extensions and Get it Today
If you want an amazing discount on your order, you can buy wholesale eyelash extensions and get it today. Of course, buying lashes in bulk at a discounted price is no good if you have to wait around forever for your order to arrive! To save you precious time and a long wait, we offer various fast delivery options.
All orders are dispatched the same working day (Monday to Saturday) via Royal Mail 1st Class. While we can't guarantee how fast things will move at Royal Mail's end, we can guarantee that we'll dispatch your order in a timely manner! To back-up our promise of speedy delivery, we invite customers to contact us if their order hasn't arrived within 3 days after the expected delivery date. In addition, we offer Premium Next Day delivery via the Royal Mail Next Day Guaranteed service. This applies to orders placed Monday-Friday by 3 pm.
International orders are also dispatched the same working day with Royal Mail International service and usually take between 5 to 10 working days to arrive depending on the part of the world you are located in. We also offer a DHL Express service option that would take no longer than 2 working days to get your order delivered to any part of the world.
Individual Eyelash Extensions Wholesale Near Me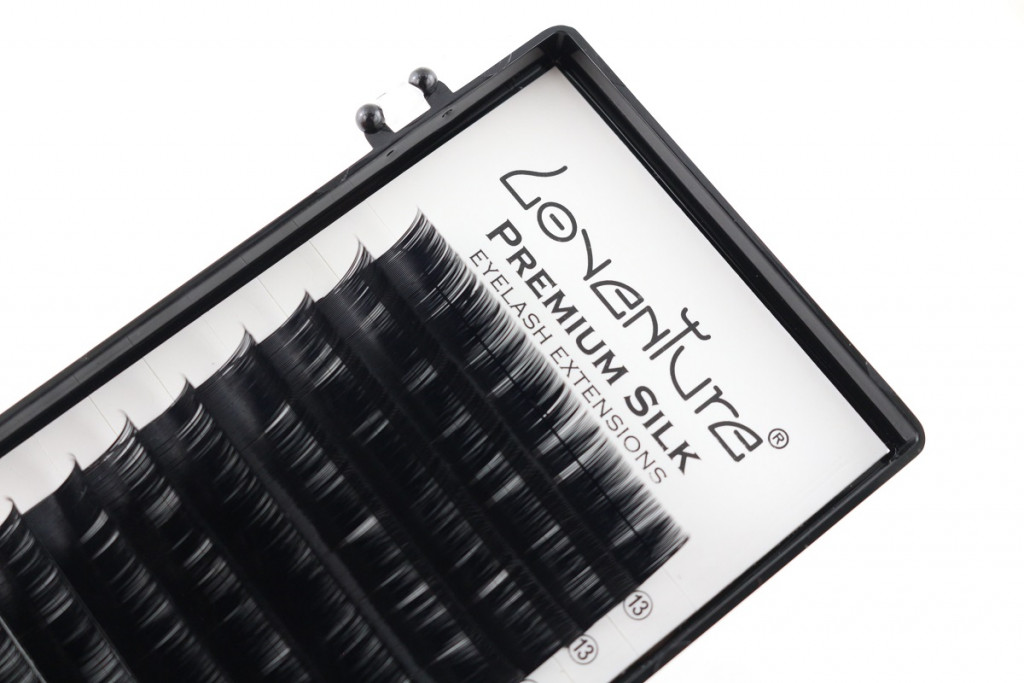 If you're tempted by our great discounts, you're probably wondering, where can I get individual eyelash extensions wholesale near me? If so, it's worth noting that we're conveniently based in Leeds, UK; it's where we ship our products from and where our salon the QBS® Beauty Lounge is located. With a wide range of products and fast delivery on wholesale lashes, we save you time and the hassle of shopping around.
We're proud to stock Loventure® and offer some unbeatable deals on their individual eyelash extensions. Loventure® lashes are among our most popular lashes and always in high demand because they represent outstanding quality and value for money.
For wholesale enquiries, information or advice, we can easily be contacted via phone or email no matter where in the UK you're based. Our friendly customer support team is always on-hand to answer your questions and get you an amazing deal on our products.
What is Included in a Professional Eyelash Extensions Kit?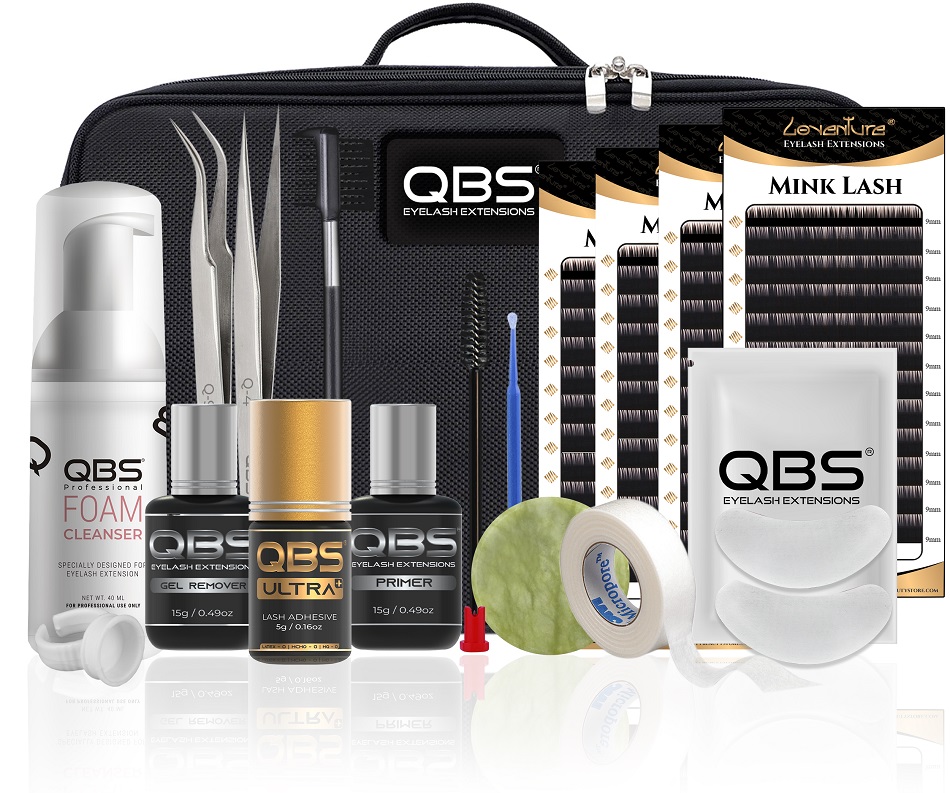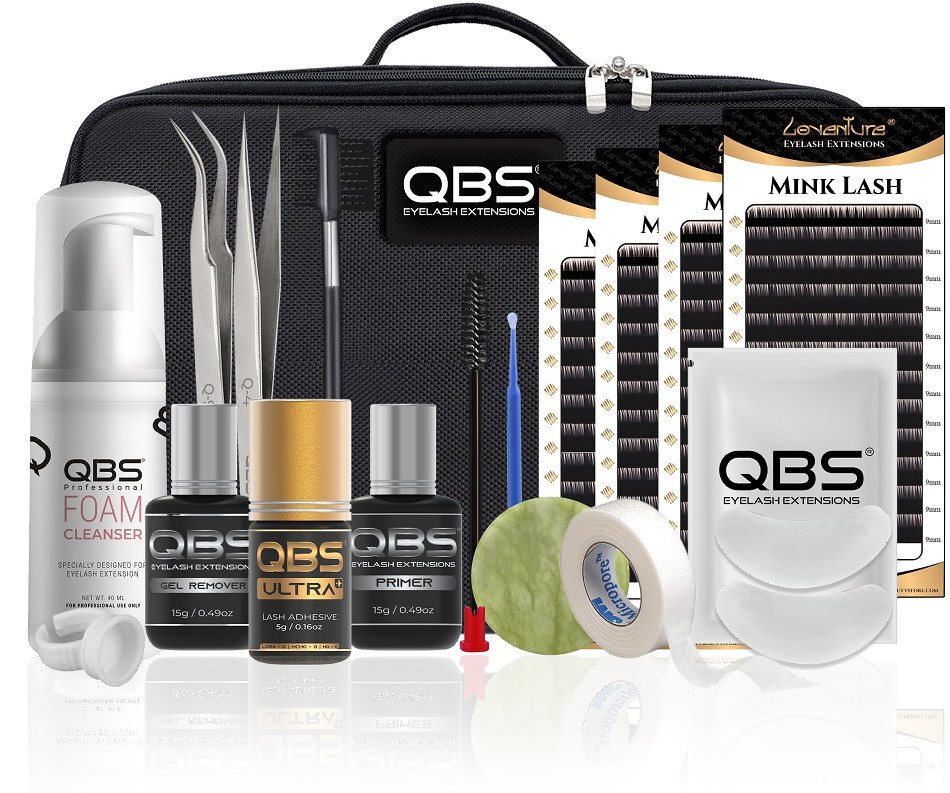 If a complete lash kit is more in-tune with what you need, we've got you covered. When bought in bulk, these kits are perfect for training academies and we're seeing growing demand for them. Our student kits allow for hands-on education of eyelash extension techniques using some of the best products on the market.
So what is included in a professional eyelash extensions kit? That's completely up to you! Our eyelash extension kits are fully customisable. Just let us know which products you'd like and in what quantities; this ensures you get the best price per kit. You can then tell us how many kits you need and we can give you an unbeatable wholesale price.</p>
<p>As an example, this is the list of products included in our lash kit as a standard option (full price £39.99):
2x Trays Of Lashes (choose your own curl, thickness & length)
QBS® Eyelash Extension Glue 5g (choose between classic, volume or hypoallergenic glue)
QBS® Gel Remover 15ml
QBS® Primer 15ml
1 x QBS® Straight Tweezers Q-4
1 x QBS® Curved Tweezers Q-9
1 x Dual Comb Brush
100 x Micro Brushes
50 x Mascara Wands
10 x Glue Ring Holders
5 x QBS® Lint Free Under Eye Patches
1 x Micropore Tape 3M
1 x Jade Stone
1 x Lash Guide
1 x QBS Make Up Bag
As you can see, you are getting a lot of products for your money, which makes this kit incredibly great value.
By ordering your student kits from us, your academy students will be equipped with a range of products from reputable brands. They can practice their technique and hone their skills in applying eyelash extensions, gaining the confidence to shine in the salon!
The QBS Waterproof Eyelash Glue – Say "Yes!"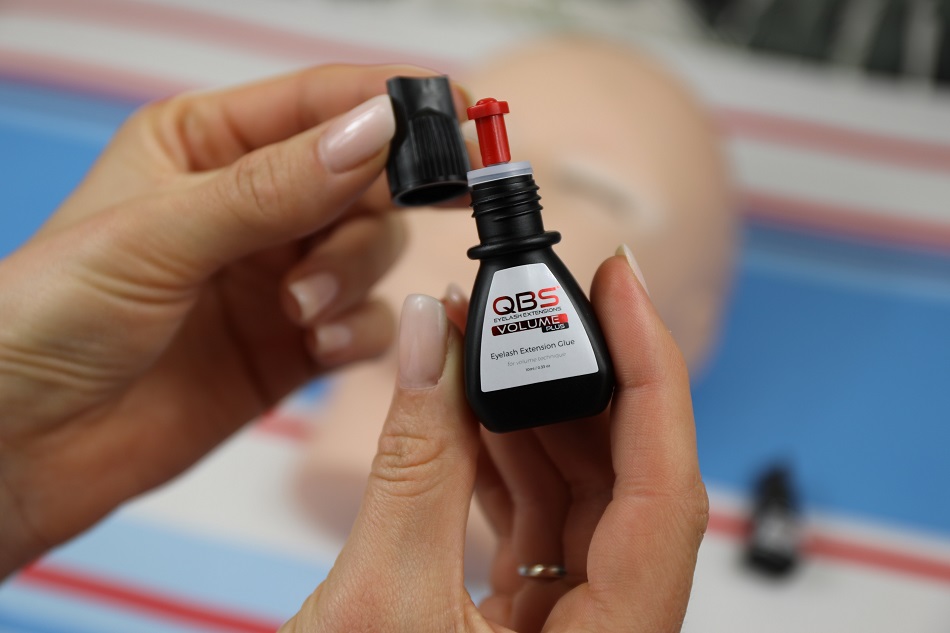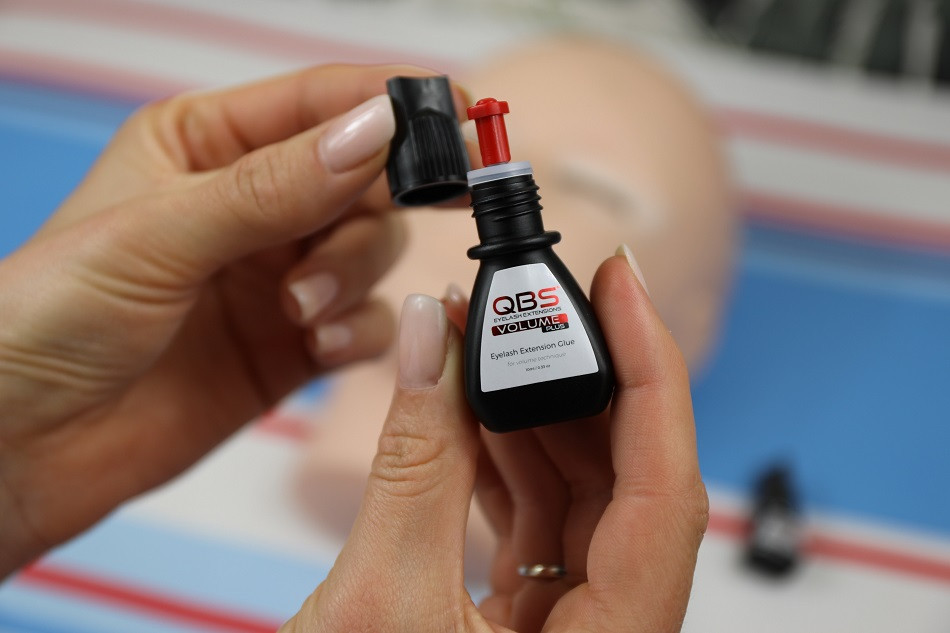 Speaking of your eyelash extension kit… whether you're a trainee, a salon owner or a personal wearer of eyelash extensions, you need dependable glue. Your lashes should not only look good for the first few days but should stay put for a long-lasting, beautiful look.
But is that really possible, when your lashes have to handle daily showers, sweat from workouts, tears of joy cried at weddings, and the great British weather? Thanks to QBS®, it is! The QBS® Volume Plus Glue has a high-quality, waterproof formula that gives great results. It allows you to create mega-volume lashes that stay locked in place throughout all sorts of water-based activities.
So if you (or the clients you're treating) have an active lifestyle, you know which glue brand to trust. Don't just think about choosing the QBS waterproof eyelash glue – say "yes!" and your lashes will look lovely for longer!
Now… Can You Go Swimming with Eyelash Extensions?
Eyelash extensions are designed to enhance your look and life – not limit them. But you lead an active lifestyle and have had your lashes augmented… now… can you go swimming with eyelash extensions?
Absolutely! It's not only possible but also safe to go swimming while wearing eyelash extensions – if you follow these rules. First, note that chlorine and saltwater can sometimes affect lash extensions. Avoiding oily cleansers and performing proper aftercare will help protect your lashes. Also, you must wait 48 hours between treatment and getting in the water so the adhesive can bond with your lashes.
Eyelash extensions offer several benefits for those who enjoy swimming. The main advantage is your eyes look amazing without you having to apply waterproof mascara! Extensions also save you time and effort when getting ready, because, on holiday, you want to be at the beach, not in front of a mirror!
Choose the Best Waterproof Eyelash Glue Today
Are you ready to hit the water with your fabulous new lashes? Choose the best waterproof eyelash glue today by shopping with Quality Beauty Store. We have a wide range of eyelash glues designed to hold your lashes in place for longer while you get out and enjoy life!
QBS® Volume Plus waterproof lash glue can withstand pool and seawater, sweat, tears, rain and virtually all water-based problems thrown at them. In our online store, you'll find various glues suitable for lash users of various skill levels. QBS® glue comes in several options depending on the technique you're using. You're sure to find the glue that delivers flawless results for your preferred technique, whether that's Classic or Russian Volume.
If you're baffled by the many brands of eyelash extension glues on the market, shop with QBS®. Our products are high-quality and our site will help you make an informed choice.
Waterproof Eyelash Glues and Extensions
Waterproof eyelash glues and extensions are the products of choice for many lash artists and salon owners. They allow the wearer to have beautifully full, fluttery lashes without the compromise of giving up their favourite activities such as swimming. If the wearer follows the simple rule of allowing the adhesive to fully bond before entering the water, their lashes should stay gorgeous for longer. It's also important to perform correct aftercare for the longevity of your lashes.
Quality Beauty Store glues and extensions have real staying power, making them exceptional value for money. You can choose a glue that's tailored to your preferred application technique or that's suitable for your skill level. You can select loose eyelash extensions or ones that come in trays; whichever you find easier to apply for the look you (or your clients) desire. Opting to buy waterproof glues and extensions means achieving stunning lash looks that last.
How to Overcome Eyelash Extension Allergic Reaction?
Sometimes, no matter how careful you are when choosing your lash glue, allergic reactions can occur. While reactions are rare, they are unpleasant, causing swelling of the eyelids, red and watery eyes, stinging, itchiness and discomfort.
That's not something anybody wants to experience, so how to overcome eyelash extension allergic reaction? Here are our top tips for preventing allergic reactions and what to do to aid recovery following a reaction:
Pre-clean lashes with a saline solution
Use less glue or a sensitive glue formula
Apply lashes in a well-ventilated room
Use a fan to blow glue fumes away from your client
Instruct the client on the importance of proper aftercare
For mild reactions, the client should take an antihistamine
Again, if the reaction is mild, apply a cold compress to the eyes
If the reaction is more severe, remove the lashes immediately
Use Anti Allergy Gel to neutralise fumes.
Yes – Allergic Reaction to Eyelash Glue Can Be Stopped!
You can't apply eyelash extensions without using glue, so if you or your clients are allergic to lash glue, what's the solution? You may think there isn't a solution, but Quality Beauty Store is here to tell you that yes – an allergic reaction to eyelash glue can be stopped!
We stock a range of high-quality, high-performance lash glues that are specifically formulated for people with sensitivities. Our sensitive lash glue formulas generally have fewer ingredients and, crucially, contain no known allergy triggers such as latex or formaldehyde. If they have any kind of scent, it is only slight and fume production is low. The best hypoallergenic glue we have developed so far is our QBS® Safety Glue. With prices starting from just £6.99 this really is a great choice for clients with sensitive eyes.
The important thing to remember is that no matter which glue you're using, a patch test should be conducted 24 hours before applying eyelash extensions. Below, we'll outline the various types of lash glues we sell that are suitable and safe for sensitive skin and eyes.
Latex Free Eyelash Glue
Latex allergy is relatively common; think of people whose skin reacts to latex gloves or balloons. You may be surprised to learn, however, that some lash glues contain latex. This can cause adverse reactions and discomfort in those who are sensitive to latex.
The symptoms of latex allergy vary between sufferers. They can include itchy, red, watery eyes and a runny nose. They may present as irritated skin or hives. Even breathing difficulties and tightness of the chest can occur, so this allergy is not one to be taken lightly.
To give everyone a chance at having fabulous eyelash extensions, we stock latex-free eyelash glue that performs just as well as other types. It contains minimal amounts of latex, bonds well, dries quickly and gives off a low amount of fumes. This glue is ideal for sensitive eyes but we strongly recommend discussing your clients' allergies before applying it.
Hypoallergenic Eyelash Glue
Hypoallergenic eyelash glue is typically free from latex, formaldehyde and other known allergens and toxic chemicals. It's therefore (generally) a safe choice for people with eyes or skin that are prone to sensitivity or irritation. This type of glue is gentle on the senses with low fume production to help avoid the red, watery eyes and stuffy nose commonly associated with lash glue allergies.
At Quality Beauty Store, we care for all our customers and all the clients they treat in their salons. Everyone deserves to have the lashes of their dreams, without having to sacrifice their health! A hypoallergenic glue formula means no-one needs to miss out on having beautiful, high-volume, long-lasting lashes.
Hypoallergenic glues mean your clients can benefit from maximum lash effects with minimum-to-zero discomfort. As with all lash glues, we strongly advise you to gather information about your clients' specific allergies prior to applying the glue.
Eyelash Glue without Formaldehyde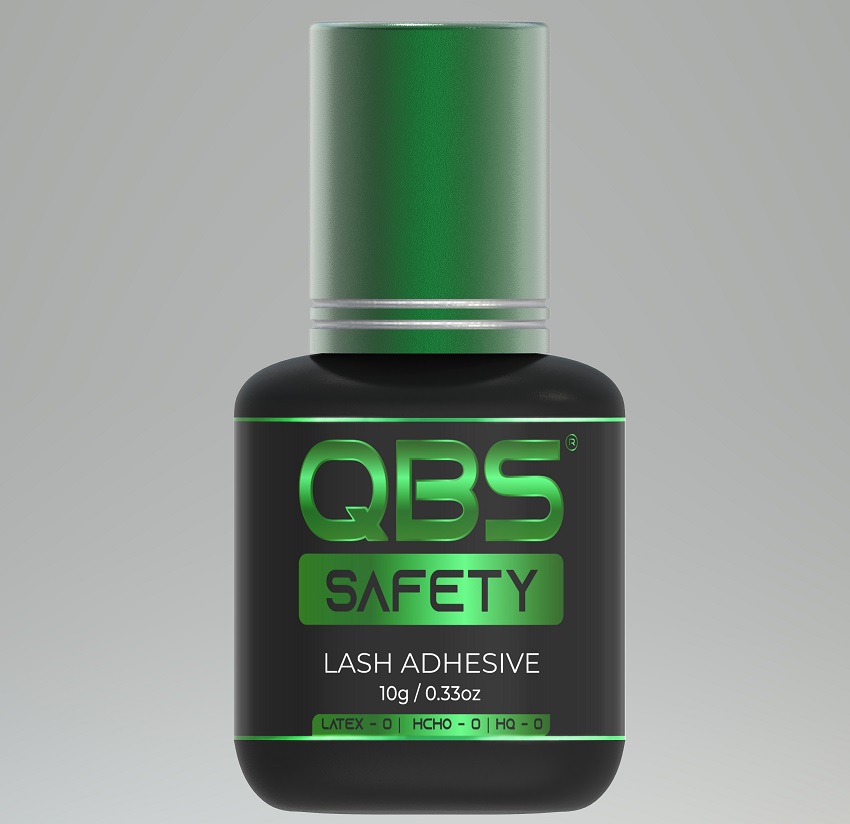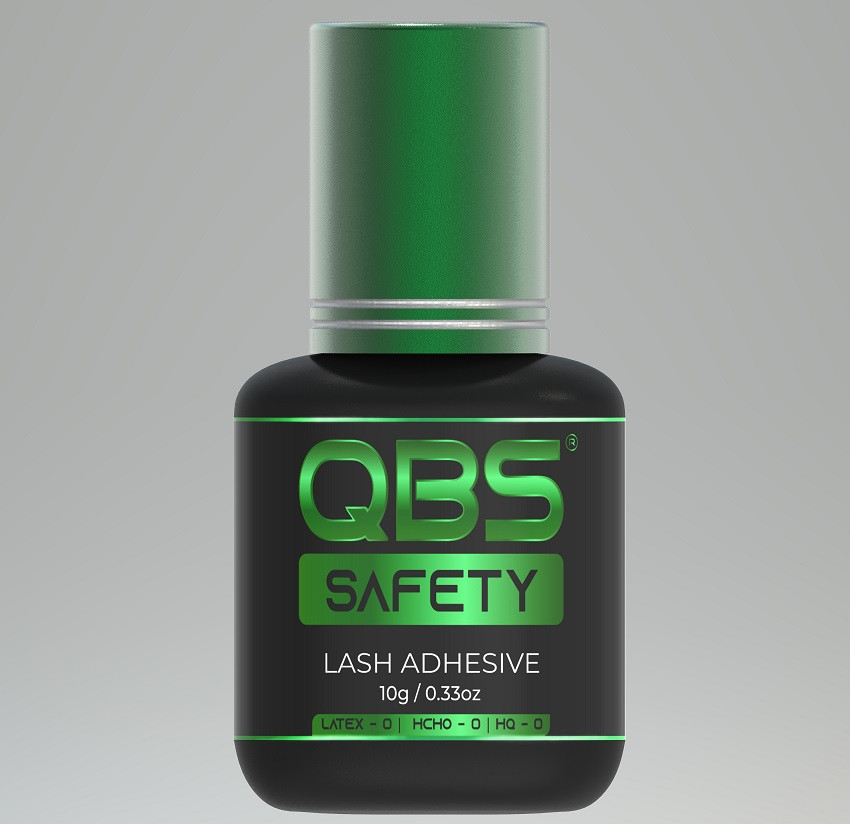 We previously touched upon the fact that some glue formulas contain formaldehyde. This may conjure up some unpleasant thoughts or give you concerns about what's actually in your beauty products! But rest assured we sell eyelash glue without formaldehyde to protect the health of your clients' eyes and skin.
Formaldehyde is used as a preservative to extend the shelf-life of various cosmetics. Though commonly included in lash glue, this toxic chemical can cause allergic reactions or irritation in people who are sensitive to it.
Since we prioritise not just beauty but also health and safety, we stock formaldehyde-free lash glues that perform well without the risk of adverse reactions. Our formulas are pharmaceutical or medical grade which means they're safe for even the most sensitive eyes. With low odours and fumes, QBS® sensitive glues reduce the chance of your clients experiencing unpleasant reactions. They'll have pretty lashes without the pain!
Perfect Solution for Sensitive Eyes!
<p>With our great range of hypoallergenic lash glues and high-quality lash extensions, Quality Beauty Store has the perfect solution for sensitive eyes! We believe everyone deserves to look and feel their most beautiful, no matter their style, budget, lifestyle or allergies. Having sensitive eyes or skin shouldn't mean missing out on having gorgeous lashes!
If you're a salon owner or a lash therapist, shop with QBS® and you can rest easy knowing you're armed with the right product for each specific client. If you like to wear eyelash extensions yourself but have experienced adverse reactions in the past, you'll find the solution to your problems right here.
If you have any questions or concerns about any of our products, simply get in touch with us via email or phone. We have a team of beauty experts waiting to answer your queries and introduce you to the best quality products available.