MCCM Medical Cosmetics offers a wide range of professional skincare products that not only you can use at your beauty salon but also enjoy from the comfort of your own home. Below, we present you the whole array which you can choose from.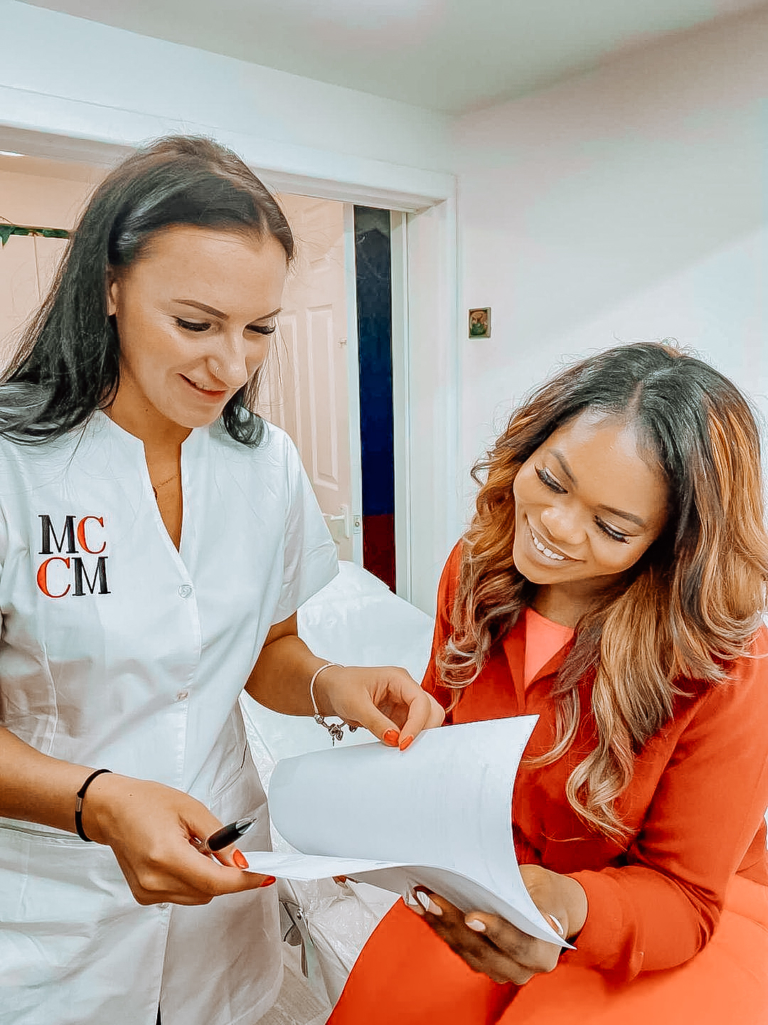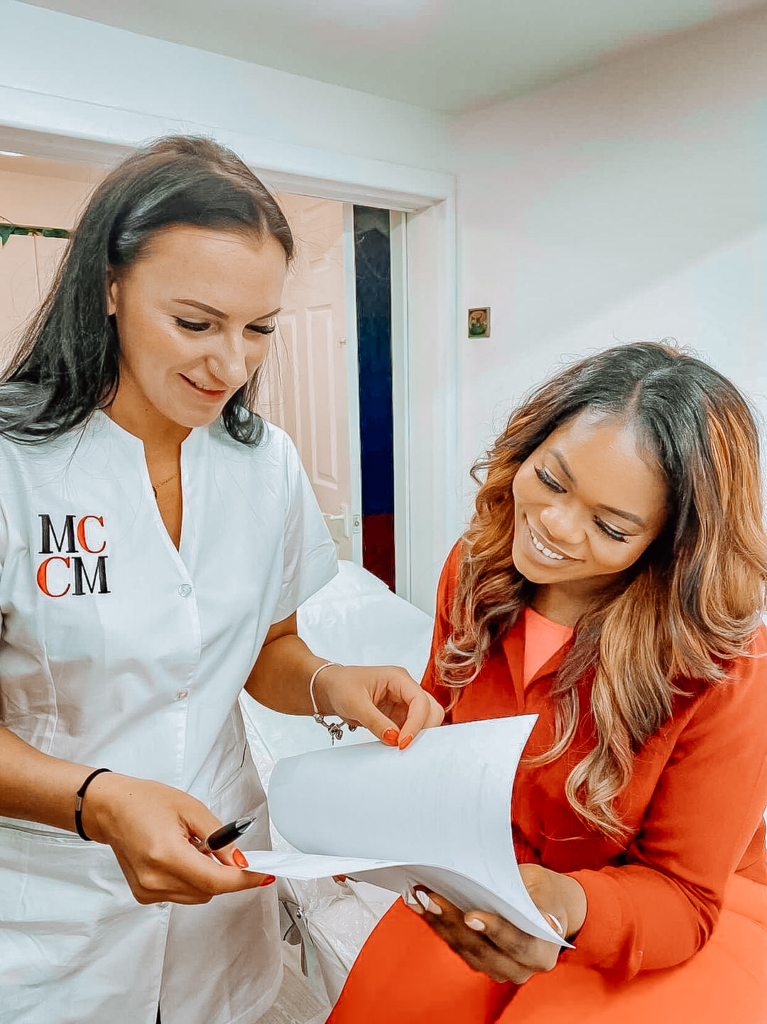 Facial Line
Our Facial line will provide you with the necessary staples of your routine while maintaining the highest dermatological standards. The primary product no one can do without is a cleanser – at MCCM Medical Cosmetics you can find the most suitable one for your skin. The neutral and gentle Cleansing Milk is a fitting option for all skin types. If you would like a more thorough cleanse, Biphasic 2&1 with lipid mantle-protective ingredients will deeply cleanse normal to drier skin while Biphasic 2&1 of a more watery, fresher consistency will be perfect for oily or combination skin. Our versatile Facial Tonic will be an ideal canvas for the following steps of the routine. A combination of refreshing and soothing Aloe, Chamomile, French Rose, Citrus Sinensis, and Allantoin is an excellent pH and skin barrier-restoring mixture for everyone.
Going further, Facial line includes a plethora of face creams, each specially formulated for a particular skin concern. Choose from moisturizers that focus on intense hydration, replenish the damaged lipid barrier, rejuvenate the skin or prevent the early or more advanced signs of aging. Among them, you can find our renowned Melano Out line which is an innovative solution for numerous types of hyperpigmentation including melasma.
Medical Equipment
The Equipment section includes a broad range of professional beautifying devices that you can use during dermatological procedures at your salon. Every tool, starting from dermal rollers and ending with Skin Analyser, has been designed with care for detail and meets the highest quality standards. Besides, MCCM Medical Cosmetics has formulated a professional disinfectant cleansing solution Meso Derma-Q-Cleanser, which is crucial before any kind of procedure.
All Skin
All Skin contains our versatile products that you can use both on the skin of the face and the skin of the rest of the body. It has been created with a view to target skin problems that can be present in every area. For instance, 100% Aloe Vera Gel is a universal hydrating and soothing solution for irritated, dehydrated skin on the face as well as a calming post-procedure gel for the rest of the body. Similarly, Sweet Balance will help the skin regenerate once it had been burnt or damaged no matter where the irritation had taken place. All Skin also includes our Solar line – a group of dermatologically-tested, non-comedogenic sunscreens which not only protect against UVA and UVB radiation but also soothe the sun-affected skin due to a mixture of rebalancing ingredients like Urea, Glycerin, Allantoin, Tocopherol, and Mimosa Tenuiflora.
Body
The Body line is a response not only to the basic but also the specific needs of the skin of the body. To address the former, Bamboo Cream will be a perfect option. Due to a harmonious combination of gently exfoliating as well as rejuvenating ingredients, the cream will provide the softest, silky texture to every skin type. If you are struggling with a localized accumulation of the subcutaneous fat or cellulite, you can choose from various lipolytic, firming alternatives which include inter alia Temple, Phosphatyl, and Hyaluro Creams. Meanwhile, Melano Out Cream will be a successful solution to any kind of body hyperpigmentation.
XR Line
XR embraces rejuvenation and regeneration. If you are looking for a healthy boost for your skin which would bring back its natural luminosity and glow, this will be it. The whole line teems with antioxidant, nourishing ingredients which both protect against the environmental stressors as well as slow down the process of aging, providing the skin with a youthful look. XR Cellular Magic is a highly concentrated rejuvenating serum which was designed having all the contributors of skin aging in mind. Firstly, it restores a thinned lipid mantle of aging skin, making it easier to naturally lock in hydration. Secondly, it revitalizes the skin with anti-inflammatory ingredients, helping reduce its oxidative stress. Meanwhile, XR Hand and Foot Creams remind us that our most exposed parts of the body need rejuvenation too.
Intimate Areas
Intimate Areas is the line that will keep your intimate areas in their best shape. V-tightening Gel offers an easily applicable solution to restore the vaginal wall's elasticity and moisture to alleviate any kind of discomfort and bring back its youthful firmness. Simultaneously, edible Vibrateing Gel will only enhance those effects as well as produce additional stimulating sensations with vibration waves. Both products contain Potassium Alum which effectively tightens the skin as well as Glycerin and Aloe for a hydrating and soothing effect.
Masks
MCCM Masks have been formulated both to provide an instant improvement of the condition of the skin as well as visibly enhance its well-being with time when used regularly. Depending on your particular needs and desired effects, you can pick one type of mask or combine some of them together. One of our favourites definitely is Cvita 180° Mask which immediately brightens and increases the firmness of the skin. Due to its combination of antioxidants and collagen-stimulating ingredients, it especially targets photo-aging prevention. Meanwhile, Hydrogel Mask is known to instantaneously induce a natural, plump Botox effect due to a mixture of Marine Collagen, Acetyl Hexapeptide-8, and Sodium Hyaluronate.
Topical Solutions & Ampoules
Topic Solutions and Ampoules are concentrated products indicated for specific skin concerns to improve them with maximum force. They are a perfect refining addition to other treatments and regular skincare products that beautifully enhance their action. After a couple of uses, the skin is healthily transformed. For instance, Musk Rose Oil due to its extraordinary abundance of polyunsaturated fatty acids incredibly regenerates the skin tissue and visibly increases its elasticity and firmness. It is extremely effective in skin aging, scars, and stretch marks. On the other hand, if you would like to instantly obtain a fresh, well-rested look, Antiaging Flash will successfully eliminate any signs of fatigue after just one application. All is due to a combination of firmness-increasing proteins, brightening, and collagen-promoting Ascorbic Acid as well as plant antioxidants.
Professional Use
In the Professional Use section, you fill find the most highly concentrated solution and cocktails which are most safely used under the eye of a professional. Without a doubt, they will extend the treatment array in your salon. The options are indeed endless – you can choose from various concentrations of hydrating and plumping Hyaluronic Acid, skin-regenerating vitamin complexes, antioxidant and revitalizing solutions as well as fat-reducing formulations. Adjust the treatment to your client's needs.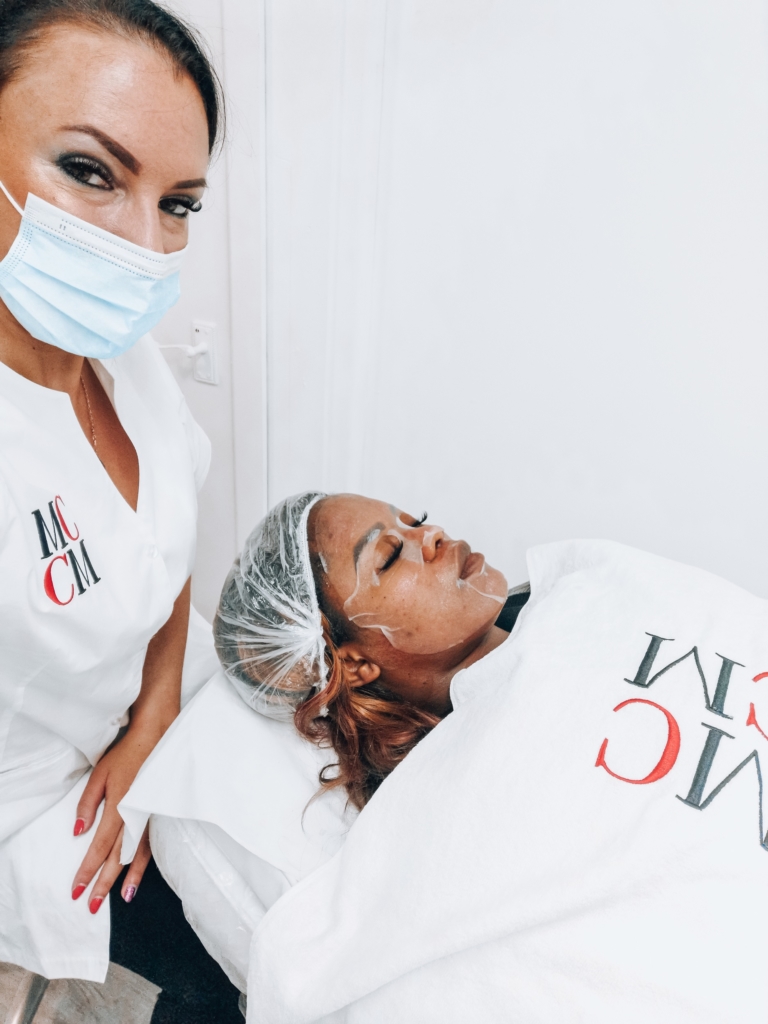 Mesotherapy Cocktails
MCCM Medical Cosmetics mesotherapy cocktails are revitalizing, specially formulated solutions which you can use separately or during a cosmetic treatment. Undeniably, our anti-cellulite and fat-burning products are some of the most frequently chosen ones and are perfect if you are struggling with cellulite, stretch marks, saggy skin, and localised subcutaneous fat excess. Naturally obtained ingredients like L-Cartinite, Caffeine, and Hyaluronidase found in Cocktails like Fat Burner, CLH Lipase and Cellulite, have a lipolytic effect meaning they successfully break down the amassed fat tissue and beautifully slim and reshape the area. Accordingly, they are also effective as adjuvant therapy during other fat-burning treatments.
Aesthetic Treatments
Among Aesthetic Treatments, you will find carefully completed sets of products, each of which serves as a complete aesthetic treatment for a particular condition from start to finish. This way, you will not have to worry that your treatment routine lacks any steps – it already has been taken care of. Let the skin be thoroughly pampered and select the compilation depending on your personal needs. If you would like to effectively dispose of hyperpigmentation or uneven skin tone, Melano Out System will be the perfect choice. It has been specially designed to target melanogenesis and hence locally reduce the amount of melanin in the skin. The spots are gone and the skin tone becomes more uniform. At the same time, if your skin needs intense exfoliation and reduction of pores, go for Pack Champagne. An innovative combination of chemical, enzymatic, and micro-mechanic peels will truly transform your complexion.
Peelings
MCCM Medical Cosmetics Peelings include a broad array of chemical peels, each slightly more suitable for a particular skin condition than the others. Because of this during the treatment not only are you disposing of accumulated dead skin cells, but you are also targeting other issues like skin aging or loss of structure. On that note, Pyruvic Peel is an ideal choice for skin that lacks elasticity and firmness as it actively stimulates the production of collagen and elastic fibers. Simultaneously, if you have acne or are dealing with post-acne hyperpigmentation, Azelaic Peel will prevent the further formation of comedones as well as will decrease the post-inflammatory spots. It is also antibacterial. Furthermore, our Peeling line contains products that have been specially designed to use pre- and post-treatment for more efficient absorption and neutralization. Prepare the skin for the peel with Cleansing and Pre-Treatment Solutions and rebalance it post-treatment with Neutralizing Spray.
MCCM Medical Cosmetics Treatments
Treatments comprise professionally completed sets for particular skin concerns for the face and the body. Each contains an active, highly concentrated product as well as everything you need prior to and post treatment. The skin is fully taken care of from the beginning of the procedure to its very end. One of the most universal Treatments that is suitable for all skin types is Pack Glycolic. It includes 6 Meso Peeling Vials filled with Glycolic Acid solution that not only will exfoliate skin debris from the top of the skin but also hydrate, rejuvenate and promote collagen and elastin growth. The skin is clearer, rejuvenated and in a visibly healthier condition. Besides, the set is comprised of Neutralizing Spray, 6 Post Peeling Masks, and Antiaging Cream.
Shampoo
Our shampoos have been formulated not only to remove excess sebum and dead skin cells from the top of your head but also to rejuvenate and soothe the scalp. What has been scientifically confirmed, a healthy condition of the scalp equals strong, shining hair. In our line, you can find three shampoo's: Frequency, Anti-Dandruff, and Antiseborrhea – for sure, one will align with your needs. Apart from that, if you would like to additionally promote hair growth and/or prevent hair loss, MCCM Medical Cosmetics has designed easily applicable scalp sprays that both peel and actively stimulate the scalp for notably more voluminous hair.
Phytotherapy
Phytotherapy is an innovative solution that will indeed take care of your skin from the inside out. We have designed a whole array of beautifying cocktails teeming with beneficial health-giving ingredients. For instance, XR CellDiet Artichoke with a naturally obtained Artichoke Extract will provide long-lasting moisture and rejuvenation to your complexion as it actively stimulates skin renewal. Simultaneously, Antiaging Collagen Drink will care for a firm, elastic skin structure from within and supply the skin with the highest-quality building nutrients. Meanwhile, the beautiful effects will be visible from the outside.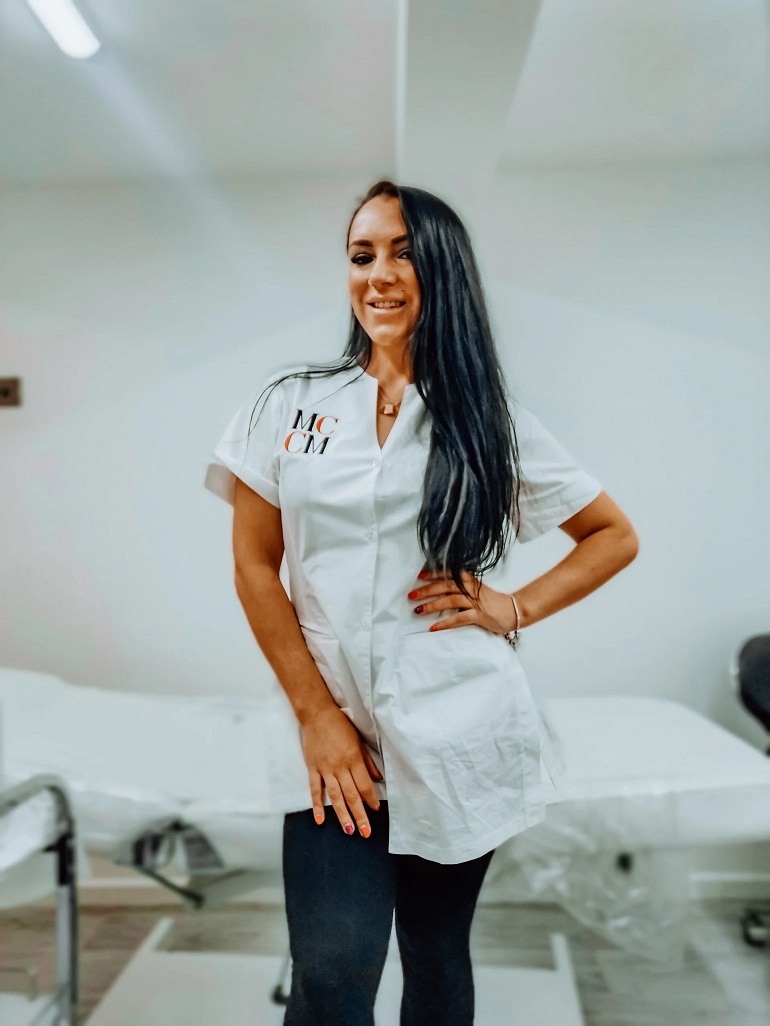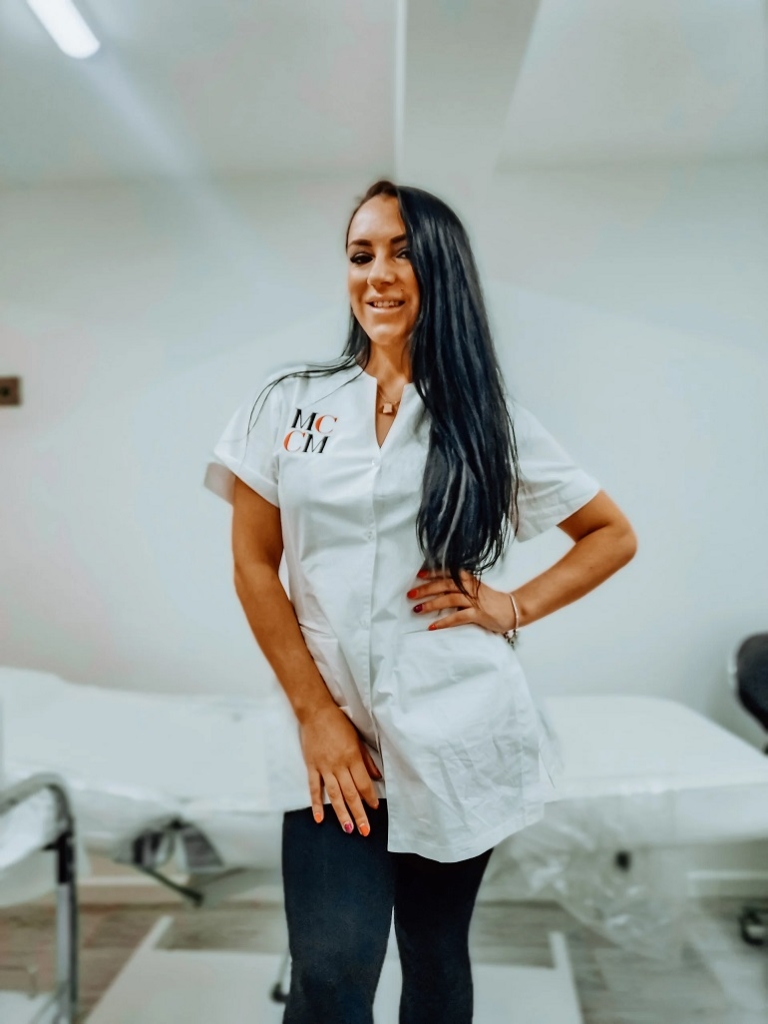 Quality Beauty Store is an official distributor of MCCM Medical Cosmetics in the United Kingdom. Our team of professional dermatologists will be more than happy to advise you on the right product for your skin as well as which ones to choose for your clinic. All orders placed before 3pm will be dispatched the same working day. We offer FREE next day delivery to all UK clients.