Mesotherapy has proven itself effective in many kinds of hyperpigmentation yet it is even better known for its skin-regenerating properties… why not combine these two? Mesoheal Pink Glow Whitening cocktail is a mesotherapy cocktail like no other that will both tackle pigmentary issues of any origin and provide the skin with a deep rejuvenating treatment. How does it work and what does make it so effective?
A unique blend of depigmenting active ingredients.
Melanin is produced by the melanocytes in the basal layer of the epidermis and is later transported in alveoli called melanosomes to the more superficial cell layers to better protect the skin against UV radiation. Surprisingly enough, every person has approximately the same amount of melanocytes and it is the size, number and dispersion of the melanosomes that determine one's skin colour and hue. Something similar happens in hyperpigmentation spots where the same thing takes place but in a more limited area. That is why, when addressing hyperpigmentation, skincare formulas should target the process of melanin synthesis so that less of it is produced and later transported in the melanosomes.
A unique, meticulously selected mixture of depigmenting active ingredients in Mesoheal Pink Glow efficaciously inhibits melanin synthesis and provides instant whitening and lightening effects. These excellent anti-hyperpigmentation features have been shown to produce stunning results in post-inflammatory hyperpigmentation, age spots, sun spots, melasma, other hormonal spots and many more. Besides, to enhance the mentioned properties, Mesoheal Pink Glow also reduces the influence of melanogenic factors like inflammation and detoxifies the skin to bring out brightness. All for the most radiant, hyperpigmentation-free complexion.
Increased skin hydration levels.
To achieve an even more glowing effect and make the skin feel ultra smooth, Mesoheal Pink Glow has been enriched with some of the most effective hydration-retaining ingredients. Their true gem must be hyaluronic acid that can bind to tens of water molecules at the same time. It instantly makes the skin regain its bounce and simultaneously gives it healthy, youthful plumpness that can be seen long-term when hyaluronic acid is applied regularly. Yet, the formula has other powerful ingredients. Mesoheal Pink Glow teems with beneficial peptides that only enhance the water-binding properties of hyaluronic acid. Concurrently, amino acids, vitamins from the groups A, B and E as well as other peptides stimulate natural skin regeneration so that the skin is stronger, more resilient and retains moisture more effectively. The skin will be more hydrated than ever before!
Firmer skin structure without wrinkles.
The youthful firmness and elasticity of the skin mainly depend of the amount of collagen and elastin bundles in the dermal skin layer. Unfortunately, it decreases with age what makes the skin thinner, saggier and less elastic while wrinkles and fine lines appear. In order to maximally prevent these changes, Mesoheal Pink Glow significantly stimulates collagen and elastin production with the help of active ingredients like collagen itself, peptides, amino acids, vitamins and powerful coenzymes. Ultimately, the skin is thicker, denser and more compact what reflects itself in increased firmness and elasticity. While this effect is an anti-aging treatment on its own, it also makes sure that the new post-depigmentation therapy skin is as beautiful and healthy as it can be and it stays this way for years to come. No one will be able to tell that any spots were there in the past.
Redefined imperfections.
Mesoheal Pink Glow contains both plumping ingredients like hyaluronic acid and compounds that stimulate the production of new skin like coenzymes and vitamin A. Because of it, the cocktail is perfect for redefining imperfections in chosen areas to your own liking. Dark, puffy circles under the eyes? Problematic nasolabial folds or marionette lips? Want to increase lip volume or correct something around the nose or the brows? None of these is impossible with Mesoheal Pink Glow. You can get rid of hyperpigmentation and redefine facial imperfections at the same time.
Intense antioxidant boost.
There would be no complete regeneration of the skin without powerful antioxidants that effectively neutralize the effects of detrimental free radicals – there is no doubt about it. Free radicals promote inflammation as well as destabilize the structure of many skin-building macromolecules like proteins, lipids and nucleic acids. If their activity is too high to handle by the skin's innate protective mechanism, one can say that the cells are under high oxidative stress. With Mesoheal Pink Glow, we want to prevent that. A mix of carefully selected antioxidants including vitamins A, C and E and glutathione successfully minimizes the free radical-related damage. Healthy skin structure is maintained in the best way possible while the complexion gains true brightness and glow. Besides, since free radicals and associated inflammation can also trigger hyperpigmentation, it is also a crucial step to include antioxidants in any depigmenting treatment.
Healthier appearance of the skin.
Many people worry that once the depigmentation treatment is done, the treated areas will appear different in comparison to the surrounding skin. When formulating Mesoheal Pink Glow Whitening Cocktail, it has been seriously taken into consideration. As mentioned earlier, the cocktail does not only dispose of unwanted pigmentary spots but it also makes the treated areas appear as healthy and glowing as possible so that the skin tone and texture are even all over the face or another treated area. Such wonderful effects can be achieved thanks to a rich ingredient list that is packed with potent, highest-quality active ingredients that include 23 amino acids, 13 vitamins out of groups A, B, C, E and I, 6 minerals, 6 coenzymes, 5 nucleic acids, collagen, peptides and hyaluronic acid. It speaks for itself. The skin is hyperpigmentation-free as well as deeply nourished, strengthened and hydrated. It is simply healthier.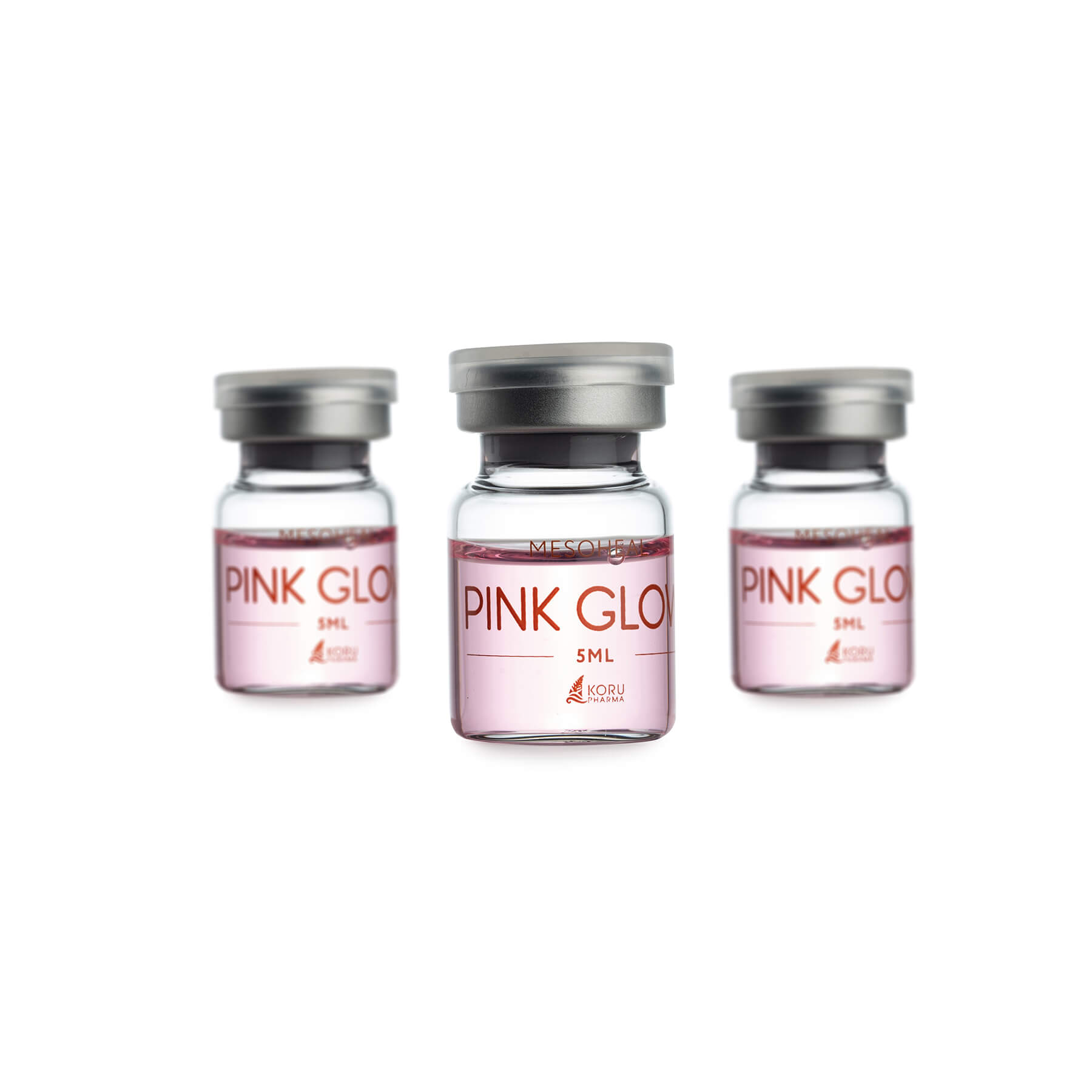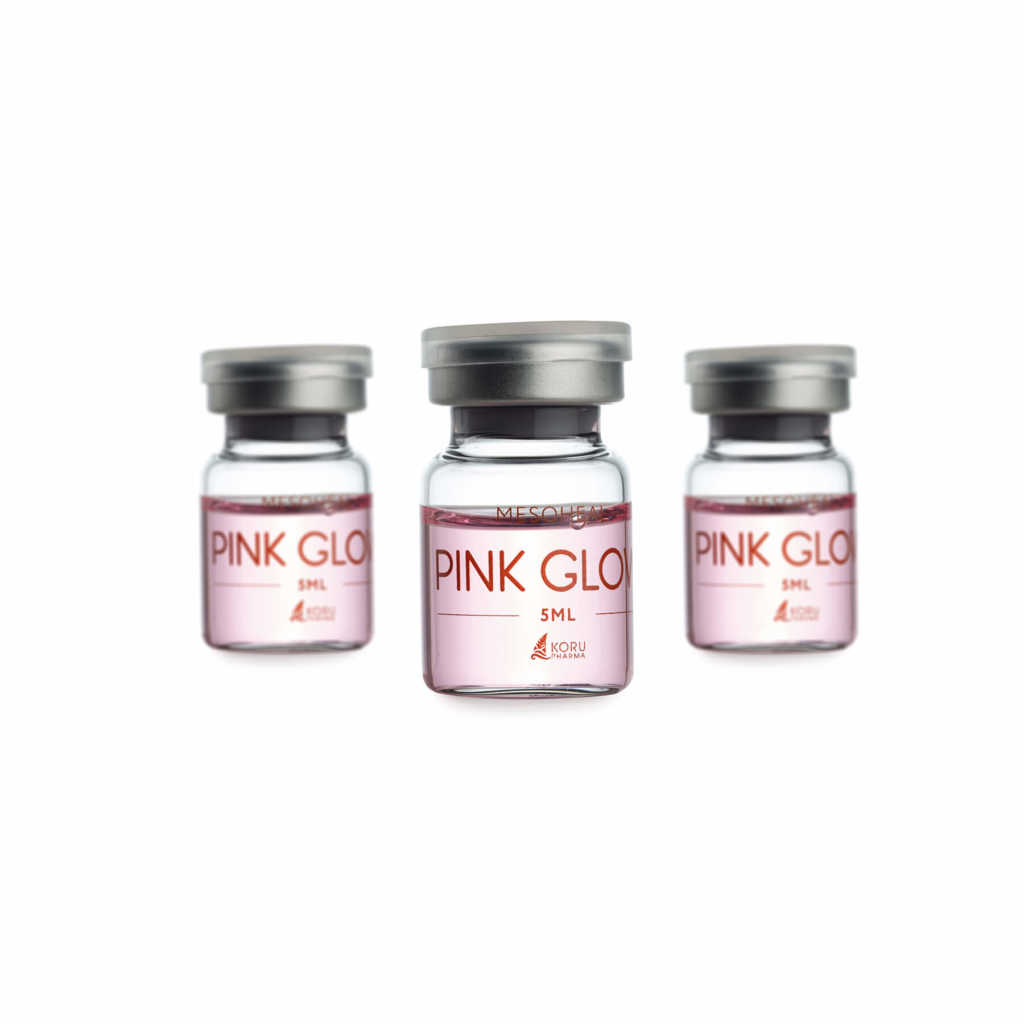 Recommended treatment frequency.
Although the first results should be seen as early as after the very first treatment, the optimal treatment duration needed to achieve the full effects amounts to around three months, that will be approximately 6 treatment sessions in total. Each session usually lasts up to 30 minutes. At the same time, for instance if you have more mature skin, a professional can appropriately adjust the treatment frequency for the most desirable results. Once the wanted effects are achieved, booster treatments, one every 2-6 months, are recommended to keep the results stunning for as long as possible. A typical Mesoheal Pink Glow treatment regimen can look like that:
1st treatment phase: 4 treatment sessions, once every 7-15 days
2nd treatment phase: 2 treatment sessions, once every month
3rd treatment phase: 1 booster treatment session every 2-6 months.
Mesoheal pink glow injection techniques.
Mesoheal Pink Glow is recommended to be used in the following injection techniques:
Retrograde Linear: The retrograde linear injections are made into wrinkles and fine lines.
Micro-papular: Injections make multiple papules at the distance of 2-4 mm over the treated area in order to improve the cocktail's absorption and effectiveness.
Median Nappage: Deeper injections into the dermis are done in the path of the vascular pattern or massage lines.
Mesoheal pink glow contradictions.
documented intolerance/allergy to any of the cocktail's ingredients
damaged skin at the injection sites
active wounds
bleeding disorders and receiving anticoagulant treatment
ongoing fever or an infectious disease
pregnancy and lactation
active oncological disease
exacerbation of a chronic disease
excessive tendency to form keloids.
Post treatment skincare.
For safety reasons, as well as to maintain the results long-term, it is important to appropriately take care of the skin after undergoing the Mesoheal Pink Glow Whitening Procedure. The rule of thumb is to be gentle and protective. Below there are specific guidelines listed:
Use a high SPF cream daily.
Avoid excessive sun exposure.
Avoid public baths and saunas.
Do not use aggressive skin products or application techniques like harsh scrubs, peels and rubbing the skin with a towel or a cloth.
Do not scratch or pick the skin.
Maintain a soothing, regenerative skincare regimen on a daily basis.